---
35 Optical Drive
---
Originally constructed in 1942, this brick and wood beam two-story structure containing 198,300 SF, was originally used by American Optical as a manufacturing/warehouse facility for eyeglass and plastic products for the face, eyes and ears. The building has gone through a series of renovations over the years which includes extensive investment by its prior tenant, 3M.
The building is positioned geographically in the center of the site with 15′ - 22′ clear ceiling height on the main floor totaling 144,200 SF and ample natural light provided by nine roof monitors and over 200/4′ x 6′ windows on the perimeter. The main floor is served by four loading docks on the south and two on the east side of the building.
The ground level of 54,000 SF has direct access from the street and sufficient ceiling height to be used for office or storage space.
---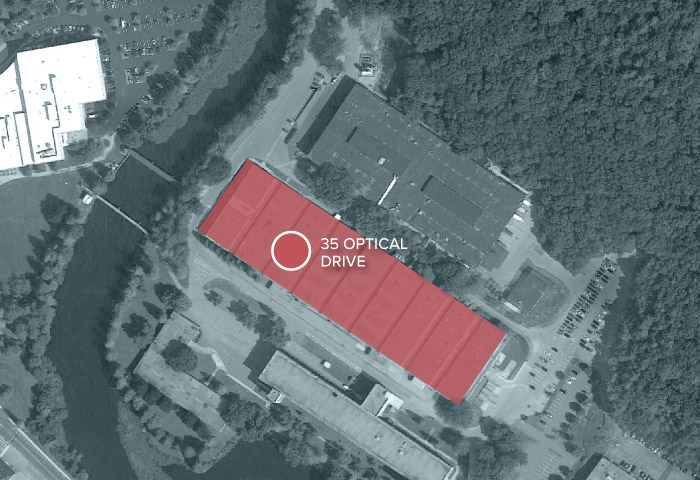 Physical Description
---
Proposed Use: Office, manufacturing or warehouse
Completed/Renovated: 1942/2006
Number of Floors: Two
Net Rentable Area: 198,300± SF
Exterior Walls: Brick and wood
HVAC: HVAC in office areas (20,000 SF); steam heat throughout the manufacturing area
Fire Safety: Fully sprinklered
Parking: 150–200 Spaces in Common adjacent to building
Utilities: Building serviced by electric; chilled water, low pressure steam, hot water; and fiber
Loading: 8 with tailboard, levelers and dock light
Interested in leasing space?
We'd love to hear from you!